Dry Touch® by Korteks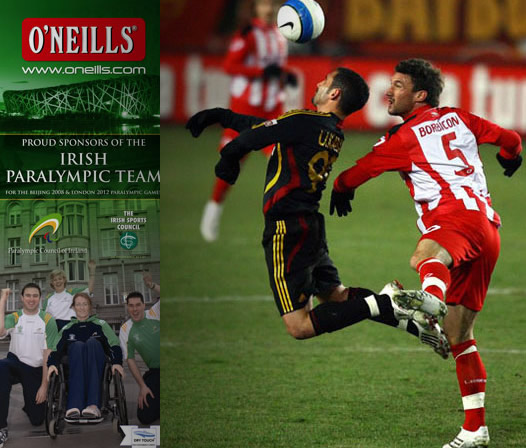 Dry Touch® is a performance fabric made from multi-channel polyester fiber yarn by Korteks of the Zorlu Group. The Polyester fiber has five-channel cross-section filaments that increase surface area, resulting in high capillary transport of excess perspiration moisture quickly off the skin. The fabric shows outstanding moisture management and greater comfort – even during high aerobic activities and on hot days.
DRY TOUCH® touts it's ability to absorb water, doing it 9 times faster than Polyester. Most synthetic performance fabrics advertise their ability not to absorb water. But that is the interesting part, because the functional yarn's filaments (and thus the yarns and fabrics as well) have a greater surface area than normal filaments, the fabric drys faster. When DRY TOUCH® Performance Fabrics and normal fabrics in the same size are wetted with an equal amount of water, the water poured on the DRY TOUCH® Performance Fabric spreads out over three times more surface area than it does on normal fabric, which means that it dries quicker. This property gives a user of DRY TOUCH® Performance Fabric a continuous feeling of dryness and comfort.
The yarn used to weave DRY TOUCH® Performance Fabrics consists of a bundle of many thin filaments, very like an electrical cable does. The fabric derives its special qualities from the physical structure of the yarns from which they are woven. The performance is not the result of the application of chemicals during the finishing process after weaving.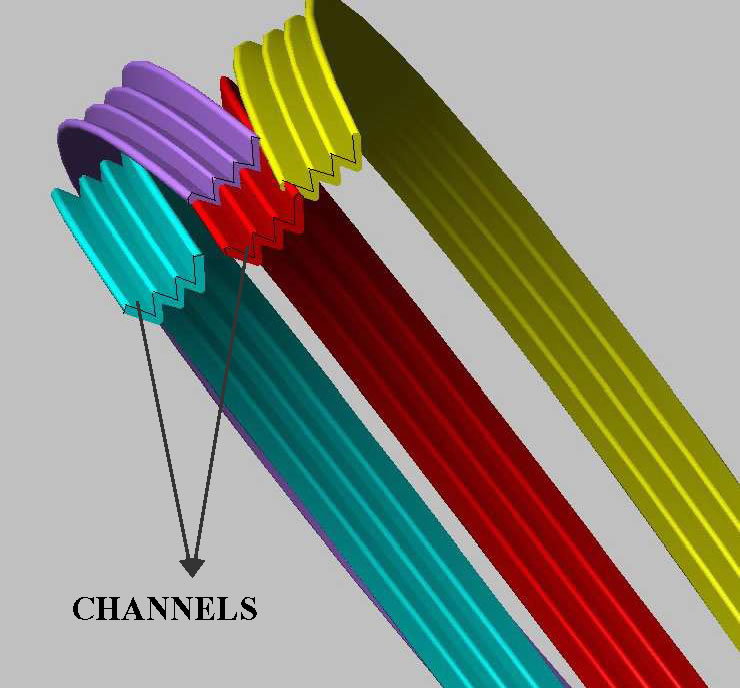 DRY TOUCH® special characteristics are derived from its unique waffle cross-section. Five channel functional filaments have three times more surface area than normal polyester filaments with the same weight. The rough structure of the filaments is what increases the surface area. The channeled structure of the filaments facilitates the fabric's air and moisture transport. These channels bring air from the outer surface to the inner one while conveying moisture in the opposite direction.
Softer to the touch
The five-channel cross-section filaments that make up DRY TOUCH® Performance Fabrics result in a softer texture than fabrics that have round cross-section filaments. The bending and stretching abilities of channel cross-section filaments are greater than those of other shaped filaments. This feature comes from the 5-channel filaments' string-like structure. This structure gives 5-channel filaments a flexibility module that is three times less than other filaments. In other words, it requires three times less energy to flex 5-channel cross-section filaments than filaments that have round cross-section.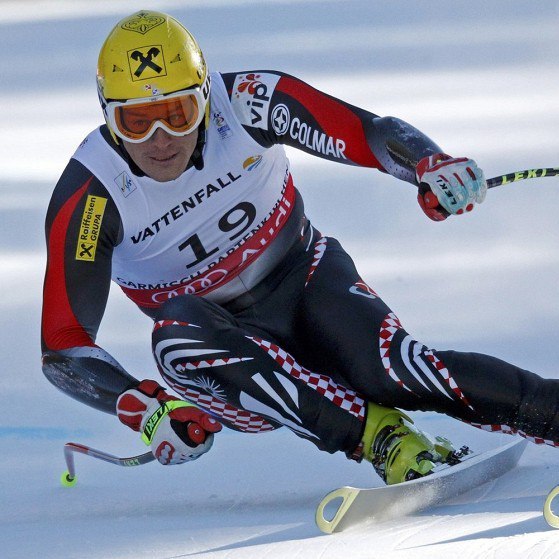 Eschler Product manager Markus Lutz: "We are very excited about the product! At the beginning, we were rather skeptical about Korteks' Dry Touch® yarn specifications regarding drying time, absorbency, and moisture transportation. We tested them at the independent research institute EMPA in St. Gallen/Switzerland. The results have confirmed all of Korteks' specifications." The four new Eschler e1 qualities also offer a high UV protection (up to UPF 50+) and have a very soft touch. For summer 2010, the Swiss brand exclusively uses the Dry Touch® yarn with silver ions incorporated in the polymer of the fibers, which inhibit the growth of odor-causing bacteria. e1 Dry Touch® is the perfect fabric for functional underwear, technical shirts, as well as performance garments, in particular for the categories bike, running or triathlon.
For more information see www.eschler.com
Better resistance to bending in pile fabrics
While it is easier to bend the filaments that have a 5-channel cross-section in the longitudinal axis, it is also harder to bend them along the vertical axis. Due to this property, yarns recover their original shape more easily and faster after being bent and released. As a result, when a force applied to a DRY TOUCH® Performance Fabric is removed, the fabric reassumes its former smooth surface structure. The ability to resist deformation through pressure, which is especially important in upholstery and pile fabrics, is excellent in DRY TOUCH® Performance Fabrics. For example when a DRY TOUCH® Performance velvet fabric is pressed with a finger, virtually no finger mark remains on the surface of the fabric, unlike normal velvets. This feature also gives DRY TOUCH® Performance Fabrics better non-wrinkle values and provides for better ironing performance.
Advanced cover
These string-like filaments with their 5-channel cross-section have better cover properties and maximum optimization in fabric construction compared with yarns that have round cross-section filaments. The string-like shape of the filaments increases the cover of the fabrics and also makes them fuller with the result that DRY TOUCH® Performance Fabrics are considerably lighter than are other fabrics with the same appearance.
Higher productivity
The advanced cover feature of the DRY TOUCH® Performance Fabrics makes them more economical than fabrics woven from round cross-section filaments and this reduces manufacturing costs. For example even when the amount of pile used in a DRY TOUCH® Performance velvet is reduced 10% or even 15%, the fabric has the same cover as comparable fabrics made from round cross-section filaments.
More saturated colors
The greater surface area of the functional yarns that are used to make DRY TOUCH® Performance Fabrics provides for better dye absorption resulting in greater color saturation in the fabric.
More natural look
DRY TOUCH® Performance Fabrics made from filaments with 5-channel cross-sections have a more natural look than normal processed PES fabrics do. The scatter reflectance resulting from the multichannel cross-section gives fabrics a natural and highly aesthetic appearance.
Moisture management can be broken down into 3 areas: absorbing, wicking and quick drying. As an example, cotton is a very comfortable fabric which absorbs well but doesn't wick or dry quickly.
ABSORBING: the test method for absorbing is AATCC 79.
AATCC 79. (time for a drop of water placed onto the surface of fabric to absorb completely)

WICKING: the test method for wicking should include:
AATCC 79, and
wicking test (distance water climbs up 15 cm piece of fabric from the dipping side after 30 minutes)


QUICK DRY: the test method for quick dry includes
AATCC 79,
wicking test and
quick dry test (after 30 min, the water regaining of the fabric should be less than 30 percent, which means 70 percent evaporated).
The standard for Quick Dry is the highest: 1) absorbing is just absorbing water, 1) wicking needs to spread the moisture quickly, and 3) quick drying needs absorbing, fast spreading, and quick evaporating performance.
DRY TOUCH® does all of these 3 functions well, So it takes that addition step beyond wicking.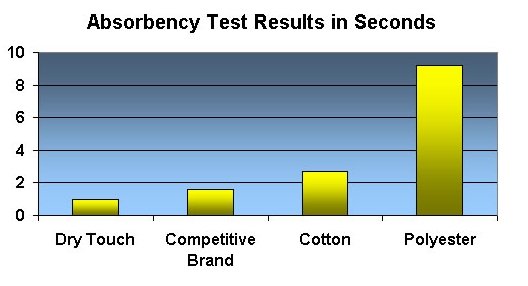 The amount of time for the fabric to absorb
the water is measured in seconds.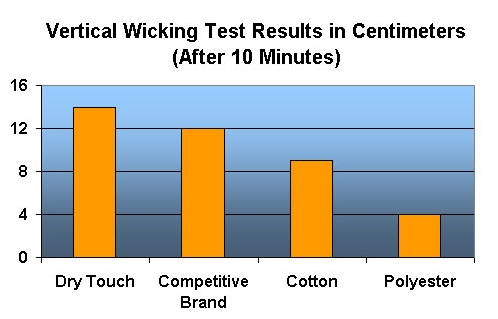 The water on the DRY TOUCH® Performance Fabric was
transported to a height of 14 cms in 10 minutes.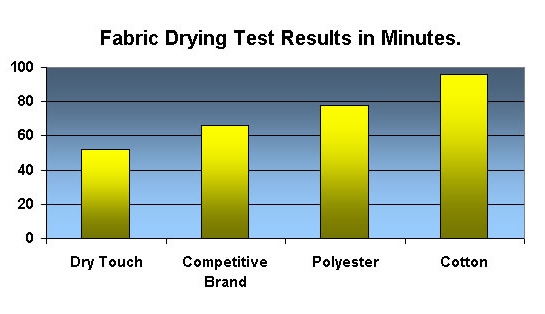 The DRY TOUCH® Performance Fabric
dried completely in 52 minutes.